Traffic Management Bureau of the Ministry of Public Security: National road traffic is generally safe and smooth during the National Day holiday
---
The reporter learned from the Traffic Management Bureau of the Ministry of Public Security of China on the 7th that during the National Day holiday, with the substantial increase in traffic, the national road traffic was generally safe and smooth. As of 19:00 on October 7, the number of traffic accidents and fatalities reported nationwide dropped by 34% and 47% year-on-year, respectively. One accident with more than 3 deaths dropped by 50%, and no accident with more than 10 deaths occurred. .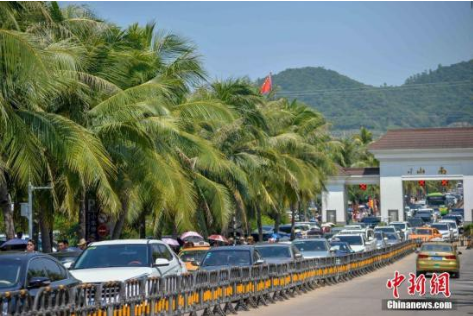 Data map: Some roads leading to the scenic spot are congested. Photo by Hong Jianpeng
It is known that the National Day holiday is long, the number of people traveling is large, and the traffic flow is large. Long, medium and short-distance passenger flow, tourism flow, and family visit flow are intertwined, and traffic security work is under enormous pressure. The Beijing-Tianjin-Hebei, Yangtze River Delta, Pearl River Delta, and Chengdu-Chongqing public security traffic control departments have made every effort to face the traffic flow test on holidays, dispatched more police, and strengthened dredging. The congestion on expressways and national and provincial trunk roads has improved compared with previous years. The public security traffic control departments in Sichuan and other places actively responded to the adverse effects of bad weather on road traffic, and promptly restored normal traffic on the paralyzed roads in the Zheduo Mountain area of the G318 line caused by continuous snowfall, and about a thousand stranded vehicles drove away smoothly.
According to incomplete statistics, public security traffic control departments at all levels across the country dispatched an average of 180,000 police officers and 60,000 police vehicles per day during festivals, and activated more than 4,000 traffic police law enforcement service stations and more than 10,000 temporary duty points. (Zhang Ziyang)
Related news
---